The 2017 Best Selling EV...In the World!
The rise and rise of the Chinese PEV market is unstoppable, with yet another record performance in December, with 102,000 new passenger PEVs being registered last month, up 130% YoY, while pulling the YTD count to over 600,000 units, up 71% regarding 2016.
As consequence of this rapid growth, in December the PEV share hit a record 3.3%, while the 2017 PEV market share ended at 2.1%, firmly ahead of last year score (1.5%), and above the USA (1.2%) and Europe (~1.9%).
The Chinese PEV market represented roughly half of the 1.2 million plug-ins sold worldwide in 2017, while Chinese carmakers made 47% of all PEVs sold last year.
Despite exports still being symbolic, the domestic market is more than enough to absorb the current production, helped by the fact that it is a highly protected market, as foreign brands only have 4% of PEV sales. Of this (small) cake, 2% belongs to Tesla, with the remaining 2% being divided by all other auto makers.
In December, small city cars had the upper hand, with the BAIC EC-Series being the poster child of them, selling over 13,000 units, which allowed it to reach #30 in the mainstream automotive ranking in China. Good month also for the BYD plug-in hybrids, with the Song and Qin joining the Top 5 of December.
Here's December Top 5 Best Selling models individual performance: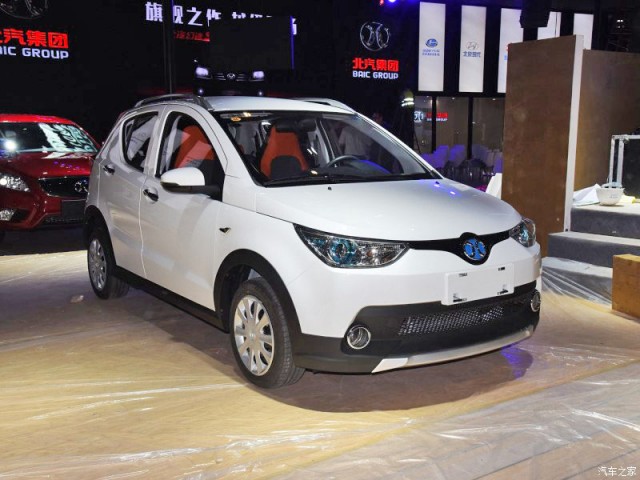 #1 – BAIC EC-Series
: After a series of ever improving performances, it looks like EC-Series has found its cruising speed, at over 10,000 units/month, having registered 13,169 units in December. T
he
little city EV is disruptive in China, owing its success to a trendy design, reminding that of a Crossover, improved specs (Now with 200 kms / 125 miles range) and competitive pricing (USD 22,000), all in a booming market segment. With the Chinese AND the Global editions of the 2017 Best Selling PEV Award in BAIC hands, the EC-Series is now looking into 2018, a six-digit performance is likely, how much above 100k is pretty much open to discussion, but I wouldn't rule out the possibility that this small EV could outsell the Tesla Model 3 and become the 2018 Best Seller…In the World. Again.
#2 – Chery eQ
: One of the EV pioneers in China, having won the models title three times in a row (2011, '12, '13), with the QQ3 EV, Chery is trying to regain relevance with the eQ, which registered a record 5,650 units in December, allowing it to reach the runner-up position last month. A vehicle targeted at city dwellers, for USD 24,000 before incentives, you get a funky city vehicle, with the 22kWh battery providing enough range (200 kms / 125 miles NEDC), to cover the needs of the urban jungle.
#3 – SAIC GM Wuling E100
: Shanghai Auto and General Motors have high hopes for their tiny two-seater, and the production ramp up is starting to make an impact on the Chinese plug-in market, having registered a record 5.545 units last month, earning its first podium place. Will it replicate the BAIC EC-Series success? I wouldn't rule out that possibility, and even export prospects, as it could be marketed as GM's Smart-like product outside China…For more info on this tiny two seater car,
please check here
.
#4 – BYD Song PHEV
: Build Your Dreams (BYD) current star product, the plug-in hybrid version of its Song compact SUV had 4,643 registrations, its best result in the last 5 months. It seems BYD's "Model Y" has stabilized around 4,000-5,000 units, which in the future it might not be enough to secure the class Best Selling status, despite its top-of-the-class specs (70 kms / 44 miles range; 0-100 kms/h in 4.9s).
#5 – BYD Qin PHEV
: This is the most common plug-in in China, with some 90,000 units registered to date, thanks to recent changes, BYD's "Model 3" (0-100 kms/h in 5.9s) got its mojo back and is once again a major player, registering a record 4.543 units in December. With a competitive price (USD 31,000 before incentives), sales are expected to remain high, as long as BYD manages to make enough of them.
Wuling E100: A 2018 Best Seller?
Year-to-Date Ranking –
BAIC EC-Series wins models, BYD manufacturers
The BAIC EC-Series won the Best Seller award in 2017, a first for a BAIC model and the end of a three year rule by BYD (Qin PHEV won in 2014 and '15, Tang PHEV won in 2016), recording 78,079 units in 2017, a new all-time record.
Second was the Zhidou D2 EV, scoring 43,342 units, with 2017 being by far the most successful year for the tiny two seater, while in Third we have the first BYD, with the Song PHEV ending the year in the last place of the podium, with some 31,000 units, roughly the same numbers that allowed the Tang to win the 2016 title. But with the market growing at 70% growth rates, more was expected from the BYD best sellers….
In a stable market, the big news were the Chery eQ climbing to #4, while the BYD Qin PHEV also rose to Eighth and the BAIC EU-Series climbed to #14, thanks to 3,247 units, a year best.
Two new additions to the Top 20 joined the ranking in December, with the promising Wuling E100 jumping to #17, while the oldtimer BYD e6, no doubt helped by fleet deals, last month had its best score (3,818 units) ever since it landed, 600 years ago in 2010, helping it to reach the Top 20, in...#20.
Looking at the manufacturers ranking, BYD (18%, down 1%) won its fourth title in a row, but the 2017 award was the most difficult of them all, because it watched the runner-up BAIC (17%) approach every passing month, fearing a last minute change in the leadership.
Looking into 2018, BAIC has beaten BYD in the last three months of the year, thanks to the EC-Series success, so if BYD wants to secure a fifth title, it will probably need a small city car to fight the EC-Series. In case they do it, I only ask one thing: A 100 hp-plus motor. The World needs tiny electric hot hatches…
In Third Place we have a last minute change, profiting from an underwhelming Zhidou performance (1,271 units, worst result in 2017), Roewe (7%) climbed to the last place in the podium, with the Shanghai-based manufacturer confirming its status as one of the "Big Four" (The others are BYD, BAIC and Geely) PEV carmakers in China.
| | | | | | |
| --- | --- | --- | --- | --- | --- |
| Pl | China | December | 2017 | % | |
| 1 | | 13169 | 78079 | 13 | |
| 2 | | 1187 | 42342 | 7 | |
| 3 | BYD Song PHEV | 4643 | 30920 | 5 | |
| 4 | | 5650 | 27444 | 5 | |
| 5 | | 1122 | 25741 | 4 | |
| 6 | | 1146 | 23601 | 4 | |
| 7 | | 2764 | 23324 | 4 | |
| 8 | BYD Qin PHEV | 4543 | 20738 | 3 | |
| 9 | SAIC Roewe eRX5 PHEV | 2687 | 19510 | 3 | |
| 10 | | 2488 | 16751 | 3 | |
| 11 | | 1922 | 15491 | 3 | |
| 12 | BYD Tang | 1505 | 14592 | 2 | |
| 13 | | 2829 | 14549 | 2 | |
| 14 | | 3247 | 13158 | 2 | |
| 15 | | 2605 | 12340 | 2 | |
| 16 | | 3521 | 11823 | 2 | |
| 17 | | 5545 | 11420 | 2 | |
| 18 | | 2099 | 11038 | 2 | |
| 19 | | 1629 | 10436 | 2 | |
| 20 | | 3818 | 10023 | 2 | |
| | Others | 38334 | 176877 | | |
| | TOTAL | 102635 | 600174 | | |
| | | | | | |