Beijing Auto goes into Warp Speed
The Chinese PEV market is at full charge, with some 95,000 units registered in May, up 128% YoY, and just 7,000 units less than the current record of 102,000 units, set last December. If sales continue progressing this fast, expect a new all-time record in June.
Consequently, the PEV share hit a record 5% PEV in May, pulling the 2018 share to 3%, well above the 2.1% of 2017, and with sales expected to pick up significantly as the year advances, the 2018 PEV share should end North of the 3% 4% threshold (Maybe 5%?), with December possibly reaching 7%.
Last month, the Chinese OEMs represented over 50% of all PEVs registered globally, an impressive number, that is sure to increase during 2018.
With symbolic export numbers, the domestic market is more than enough to absorb the current Chinese production, helped by the fact that it is still a protected market and foreign OEMs hadn't yet looked seriously at this niche, but with PEV quotas to be fulfilled in the near future, foreign brands are finally putting an effort, proof of that is that overseas makers now have a record 7% share. Of this (small) cake, 3% belong to Tesla, 2% to BMW, with the remaining manufacturers sharing the final 2%.
In May, it was a Titanic race between the resurgent BAIC and the leader BYD, with the EC-Series high above the competition.
Here's May Top 5 Best Selling models individual performance: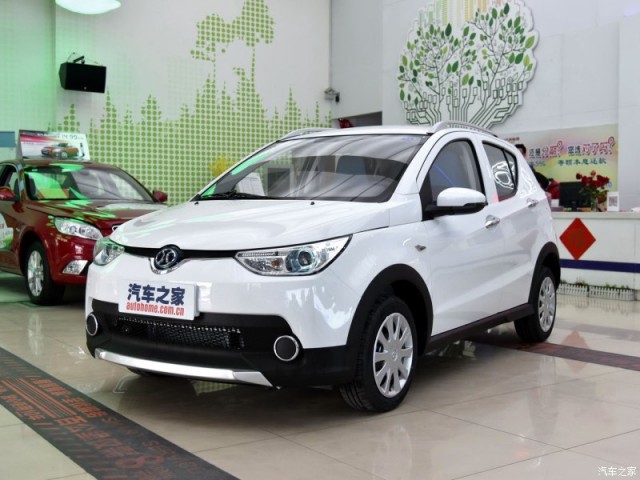 #1 – BAIC EC-Series
: The little EV is back at five-digit performances, with the EC-Series registering 12,624 units in May, tripling sales regarding the same month last year, which may mean that the 2017 Global Best Selling EV is not handing out its crown to the Tesla Model 3 without a fight. In fact, it should be the only model with a real chance to beat Tesla's new baby in the 2018 race. The little EV continues to disrupt the Chinese market, reaching #37 in the mainstream ranking, and winning 8 of the last 9 Monthly Best-Selling trophies. A cute design helps the EC-Series to be a popular choice in the Chinese Mega-Cities, also helped by a competitive price ($24,500, before subsidies).
#2 – BYD Qin PHEV
: With the second-generation Qin just a few months from landing, the first generation had another surprisingly good performance in May, with 4,496 units (year best), being BYD's "Model 3" 9th consecutive "3 to 4 thousand units/month" result (Talk about consistency!). Sales are still going strong for BYD's sports-sedan, and should continue in the 4,000-something level, at least until the new one arrives. As for the new generation, sales above 5,000/month should become the norm, becoming the Best Selling BYD.
#3 – SAIC Baojun E100: Shanghai Auto and General Motors have high hopes for their tiny two-seater, and with the MY2018 version being ramped up, it is starting to make an impact on the Chinese plug-in market, having registered 4,310 units last month, a year best. Will it reach the BAIC EC-Series numbers? I wouldn't rule out that possibility, and even export prospects, as it could be marketed as GM's Smart-like product outside China. Spec-wise, if power (39 hp) is not amazing, its price (CNY 93,900 / USD 14,700) is, especially considering its modern design and features.
#4 – Zhidou D2 EV
: If the EC-Series can be considered "cute", this bare-basics city vehicle design is as dull as a dishwasher. Nevertheless, they continue to be sold in large quantities (4,262 units in May, year best), due to a combination of bargain-basement prices and big fleet deals, aided by updated specs in 2018. This vehicle is sold as a Quadricycle (Think Renault Twizy class) in some European countries, with the following specs: 18 kWh battery, 155 kms range, 100 kms max.speed, all this for some 16,000€.
#5 – BAIC EX-Series
: BAIC's electric compact Crossover landed two years ago, but somehow, it has been overshadowed since, by the remaining lineup, a strange event, considering that it sits on one of the hottest segments around. Nevertheless, its time has come and thanks to revised specs (48kWh battery, 318 kms/199 mi NEDC range) and pricing ($28,500, before subsidies) in 2018, Beijing Auto's Ugly Duckling is finally spreading its wings, having registered a record 4,034 units. Will the automaker find here the lineup's second-in-comand aide for the EC-Series?
Roewe Ei5: A future Best Seller?
There weren't many changes on the top positions, the most important was the BYD Qin PHEV switching places with its Song PHEV stablemate, with the sedan now in Second Place, while the tiny Zhidou D2 EV also took the time to climb one position, to Sixth Place.
But significant changes happened in the lower end of the table, with the BAIC EX-Series storming through to #15, thanks to a record 4,034 deliveries, a new record for the Crossover nameplate.
Speaking of records, there were plenty in this Top 20, six in total: Besides the aforementioned BAIC EX-Series, the #8 Roewe eRX5 PHEV also broke its personal best (3,030), just like the #9 JMC E200 (3,372), or the #20 Hawtai xEV260 (1,559).
Finally, the Haima Aishang EV jumped three positions, to #16, thanks to a record 3,278 units, while the second newcomer on the Top 20, the #18 Roewe Ei5 EV, registered 2,996 units in only its third month on the market. Has SAIC struck gold with its standalone wagon?
Looking at the manufacturers ranking, BYD (18%, down 3%) is losing ground fast, having lost 6% share in the last 2 months, to the profit of the runner-up BAIC (17%, up 2%), that not only has its EC-Series sales champ in full charge, but it also now has the EX-Series helping decisively.
In Third Place, the Shanghai-based Roewe (11%, up 1%) holds the last place of the podium, with a significant advantage over #4 JAC (6% share), but if we look at SAIC's global result (Roewe+MG+Baojun+Maxus), the share adds up to 15%, confirming it as one of the Big Three Chinese OEMs in the plug-in market.
e) Estimate