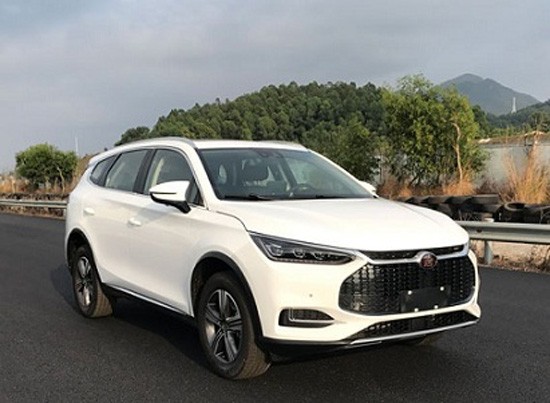 New BYD Tang: A future Best Seller?
After the usual off-season (January and February), the Chinese PEV market is back at full charge, with 71,000 units registered in April, up 129% YoY, with the 2018 sales more than doubling regarding the same period last year,

with
another 10,000+ commercial vehicles (buses & trucks) being also sold.
Consequently, the record 3.7% PEV share of April, pulled the 2018 share to 2.3%, already above the 2.1% of 2017, and with sales expected to pick up significantly as the year advances, the 2018 PEV share should end North of the 3% threshold, with December possibly reaching 6%.
Last month, the Chinese OEMs represented roughly 50% of all PEVs registered globally, an impressive number, that is sure to increase during 2018.
With symbolic export numbers, the domestic market is more than enough to absorb the current Chinese production, helped by the fact that it is still a protected market and foreign OEMs hadn't yet looked seriously at this niche, but with PEV quotas to be fulfilled in the near future, foreign brands are finally putting an effort, proof of that is that overseas makers now have a record 7% share. Of this (small) cake, 3% belong to Tesla, 2% to BMW, with the remaining manufacturers sharing the final 2%.
Here's April Top 5 Best Selling models individual performance:
#1 – BAIC EC-Series
: After an outlandish Q4 2017, with three five-digit performances, the EC-Series seems to have stabilized around 7-8,000 units/month this year, with April registering 7,471 units, up 72% YoY. The little EV continues being disruptive in the Chinese market, winning 7 of the last 8 Monthly Best-Selling trophies. A cute design helps the EC-Series to be a popular choice in the Chinese Mega-Cities, where the 180 kms range are enough to run around the urban jungle.
#2 – BYD e5
: BYD's Plain Jane electric sedan, a favorite among taxi-drivers, registered 4,294 units in March, a new record for the nameplate for the second month in a row. This second youth is due to a facelift this year and, most importantly, a larger battery, allowing it to improve specs (61 kWh, 400 kms range NEDC, 218 hp), for a competitive price (CNY 220,650 / USD 34,600), the model is a bit of an unsung hero in the BYD stable, as the 73,000 units sold so far mean that it is the brand third bestselling PEV, behind the Qin and Tang models.
#3 – Zhidou D2 EV
: If the EC-Series can be considered "cute", this bare-basics city vehicle design is as dull as a dishwasher. Nevertheless, they continue to be sold in large quantities (4,152 units in April), due to a combination of bargain-basement prices and big fleet deals, aided by updated specs in 2018. This vehicle is sold as a Quadricycle (Think Renault Twizy class) in some European countries, with the following specs: 18 kWh battery, 155 kms range, 100 kms max.speed, all this for some 16,000€.
#4 – BYD Qin PHEV
: The most common plug-in in China (Over 140,000 units) had another good performance in April, with 4,134 units, being BYD's "Model 3" eighth consecutive "3 to 4 thousand units/month" result (Talk about consistency!). Considering a new Qin is coming in a few months, it is surprising that the current one is still going strong. As for the new generation, sales above 5,000/month should become the norm, becoming the Best Selling BYD.
#5 – SAIC Baojun E100
: Shanghai Auto and General Motors have high hopes for their tiny two-seater, and with the MY2018 version being ramped up, it is starting to make an impact on the Chinese plug-in market, having registered 3,760 units last month, a year best. Will it reach the BAIC EC-Series numbers? I wouldn't rule out that possibility, and even export prospects, as it could be marketed as GM's Smart-like product outside China. Spec-wise, if range (155 kms NEDC) and power (39 hp) is not amazing, its price (CNY 93,900 / USD 14,700) is, especially considering its modern design and features.
Hawtai xEV260
There were plenty of changes on the top positions, the most important was the BYD Qin PHEV climbing to Third Spot, making it two BYD's in the podium, while its sibling e5 joined the Top 5, underlining a positive month for the brand.
Other significant changes were the Roewe i6 PHEV sedan climbing one position to #6, while small EVs (Zhidou D2 EV, Baojun E100, Chery eQ1) are jumping the ranking ladder, now that their specs are complying with the 2018 rules.
Down below, the Hawtai xEV260 jumped two positions, to #18, thanks to 1,418 units, a new record for the compact SUV.
Looking at the manufacturers ranking, BYD is at the throne, but has lost 3% share (24% to 21%), as the market is growing even faster than the BYD ramp up, while the runner-up BAIC also lost ground (15%, down 2%).
In Third Place, the Shanghai-based Roewe (10%) is holding the last place of the podium, but if we look at SAIC's global result (Roewe+MG+Baojun+Maxus), the share adds up to 14%, confirming it as the Third largest Chinese OEM in the New Energy Vehicles field.