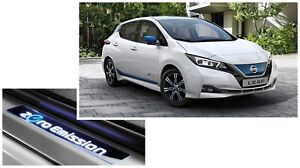 Nissan Leaf rules in Estonia
Only 120 new Plug-ins were registered in the first months of 2018, which nevertheless means a 140% jump in sales regarding the previous year, pulling the current market share to 0.5%, the market best year since 2014, although it is still a far cry from the 2.6% record year of 2012, when Estonia was seen like a sort of "Little Norway".
Speaking of Norway, a common trace between both markets is the popularity of the Nissan Leaf, with the Japanese hatchback on its way to win its fifth sixth consecutive(!) Best Seller award, by selling 60 units this year, or half of the local PEV market.
In Second

we have

the surprising Hyundai Ioniq Electric, that with 14 units, is headed to provide Hyundai its first medal here.
Also on its way to win a medal for the first time, we have the Third Placed Porsche Panamera PHEV, although the Sports Sedan could still lose the podium position to its Cayenne PHEV sibling, or the Hyundai Ioniq PHEV, both just three units aways.
In the manufacturers ranking, Nissan (53%) is head and shoulders ahead of Hyundai (21%), soon winning it's sixth manufacturers title, while Tesla (7%) holds the last place of the podium.