Zotye E30, or what a 2-seater city car could look like if it had been done by BMW i-line
(Subsidies Derived) Record Month
The Chinese market had a record 43.441 new EV's zooming the streets in November, up 36% over last October and 56% YoY, pulling the Plug-in Market Share to a record 1.39%, above the USA (0.86%) and Europe (1.2%).
With the market share continuing to rise bit by bit, the Chinese EV market will end the year at over 350.00, pulling the total plug-in fleet to over 650.000 units, which will be the largest in the World, above the US (560k) and Europe (630k).
In November, the
upcoming incentive changes
reshaped the ranking, with plenty of cheap, small EV's experiencing a surge, no doubt linked to dealership registrations, wanting to cash in on the current subsidies.
As such, three small EV's jumped into the Top 5, with one of them (Zotye Cloud EV) collecting the Best Seller trophy, with over 5.000 units.
Here are last month Top 5 Best Selling models:
#1 – Zotye Cloud EV
: One of many electric "cars" on sale in China, the Zotye Cloud EV has the advantage of offering five doors, some equipment features, like a 7-inch color infotainment system (Which is where the name comes from, "Cloud" – Get it?) and a usable range, with 150 kms, thanks to a 18kWh battery. Is this enough to explain the record 5.024 units registered in November? No, but the upcoming incentives reduction is…
#2 – Geely Emgrand EV
: Geely, one of the largest car makers in China, owner of Volvo and LTI, the iconic Black Cab from London, recently joined the EV Circle, selling the Emgrand EV, an electric conversion of its successful middle-of-the-road sedan, and last month was the most successful to date, with 3.799 units, allowing it to join for the first time the Top 5. With OK looks and good-but-not-outstanding specs (127 hp, 0-100kms/h in 9.9 seconds, 253 kms range from a 45 kWh Lithium battery), Geely is hoping to make a good first entry into the market, stealing sales from BYD and BAIC sedans, while the much more appealing Lynk & Co plug-ins do not arrive.
#3 – BAIC EU260
: Beijing Auto's new poster-child for success, the EU260 this time was down to 3.769 units, but still enough to win another podium seat, this time in Third. Sitting at the heart of the plug-in sedan market, with compelling specs (260 kms range, 0-100 kms/h in 9 seconds), this model is giving BYD sedans a run for the money and will be a strong contender for 2017.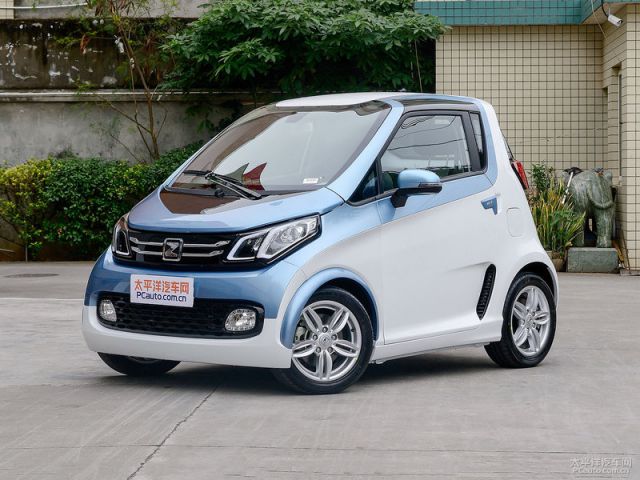 #4 – Zotye E200
: Top of the range of the two-seater-Smart-alike lineup from Zotye, this model has some impressive specs, even shaming Smart itself, with a 220 kms range coming from a 25kWh battery, 80 hp engine, 120 kms/h top speed and fast-charging possibilities, the E200 feels like a winner. Helped by the incentives boost, this model reached a record 3.500 units in November.
#5 – Chery eQ
: The funky little hatchback is on the rise, having beaten again Chery's monthly record, with 3.233 units, earning its second consecutive Top 5 spot. Unlike the Zotye Cloud EV, the eQ feels more car-like, with a 22 kWh battery, 200 kms range, a 56 hp engine and suitable safety equipment (Airbags, ABS…).
BYD Tang
Year-to-Date Ranking – The Legend of Zotye
With some 70(!) models on sale, the Chinese EV market is by far the most dynamic on Earth, with plenty of surprises and changes.
If the Top 3 models remained unchanged (Strangely, all in "Slow Selling" mode), the following positions saw plenty of changes, with the BAIC EU260 jumping to #4, now less than 100 units away from its smaller brother BAIC E-Series EV and with the BYD Qin in the line of sight, Beijing's sedan will try to take away the Silver Medal from its direct competitor.
But the Climber of the Month award went to the Zotye Cloud EV, jumping to #6, thanks to a record 5.024 units, it is now the Best Selling City EV in the ranking, but with the Chery eQ also running strong and some 800 units behind, this class 2016 title is still open to discussion.
Deserved mentions for the Geely Emgrand EV, rising to #10 thanks to 3.769 sales, while in a memorable month for Zotye, its E200 city car also impressed, beating again its personal record, with 3.500 units, jumping three positions to #11, becoming the one of the surprises of the month.
Looking at the manufacturers ranking, the leader BYD lost 2% share, to 31%, while being the first time in years we don't see a single BYD in the Monthly Top 5, a case of waning demand, retooling for the Lithium-equipped 2017 edition of their models, or both?
BAIC (14%) is firm in Second Place, while Zotye (11%, up 3%) secured its Third Spot, ahead of SAIC and Zhidou, both with 6% share.
An always popular debate is Tesla's performance in China, while many commentators have classified it as a failure for not topping the sales ranking as in other markets, let's not forget two facts:
One, domestic carmakers have 95% of the market;
Two, of the remaining 5% that's left to foreign brands, 3% belong to Tesla, so in fact Tesla is outselling all other foreign brands in China. Combined…
And that's despite having no local production, thus paying heavy import taxes. If that is not success, I don't know what is.
Finally, looking at the breakdown between BEV's and PHEV's, unlike other markets where plug-in hybrids are winning the upper hand, all-electric cars just keep on improving share, now at 75%, up 3% regarding last month.
| | | | | |
| --- | --- | --- | --- | --- |
| | | | | |
| | | | | |
| | | | | |
| | | | | |
| | | | | |
| | | | | |
| | | | | |
| | | | | |
| | | | | |
| | | | | |
| | | | | |
Article also published on
EV Obsession
and
CleanTechnica