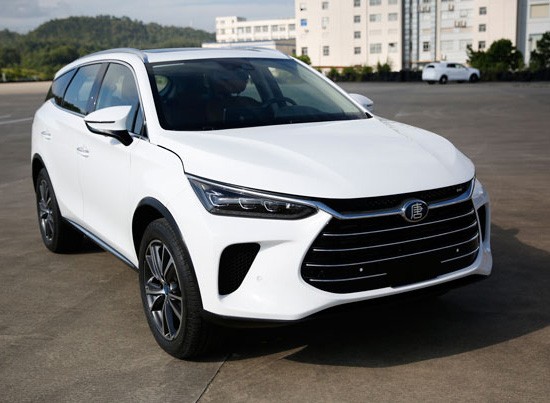 The imposing new BYD Tang, coming to Chinese streets in a few months
The NEV Games – Stage 2: BYD's Revenge
February is traditionally the slowest selling month in China, but with sales around 34,000 units, there's not much to complain about, numbers were up 88% YoY, making this by far the best February ever.
The PEV share dropped slightly, to 1.3%, a smidge below the previous month (1.4%) and a step below the 2.1% of 2017, but on the bright side, from now on, sales are expected to pick up significantly as the year advances, with the 2018 PEV share expected to end at around 3%.
Last month, the Chinese OEMs represented roughly 40% of all PEVs registered globally, an impressive number, especially considering that February is the slowest month in the Chinese PEV market.
With exports still being symbolic, the domestic market is more than enough to absorb the current production, helped by the fact that it is a highly protected market, as foreign brands only had 3% of PEV registrations last month. Of this (very small) cake, 2% belonged to BMW, while the other manufacturers, Tesla included, divided the remaining 1%.
In February, the main news were the surprisingly low sales of the BAIC EC-Series, with only 4,120 registrations, dragging down with it the mothership BAIC, allowing its nemesis BYD to pay back the defeat it had in the previous month, all while dethroning the Beijing brand from the 2018 Best Selling Brand position.
Here's February Top 5 Best Selling models individual performance:
#1 – BYD Song PHEV
: Build Your Dreams (BYD) current star product had 4,481 registrations in February, underlining a good start of the year. If the 2018 Best Selling PHEV title seems to be destined to stay with it, one questions if BYD's "Model Y" can also reach the sales level of the BAIC EC-Series. Maybe, maybe not, consistency seems to be BYD's forte, so if the EC-Series goes into a series of uninspired performances...Who knows?
#2 – BAIC EC-Series
: After winning the Best-Selling status for six months in a row, the EC-Series had a disappointing February, having registered just 4,120 units last month. Sure, 4000 units should be enough to give it a podium place on the Global February Best Selling PEVs, but when you reach almost 16,000 registrations in a month, 4000 seems like you're not trying hard enough…It's a bit like Lionel Messi, when you get people used to hat-tricks & other magic numbers during the 90 minutes of the game, if you just offer the assistance for the victory goal, people think you are being lazy…Anyway, the little EV continues to be disruptive in the Chinese market, leading it by a large distance over the Second Placed BYD Song PHEV.
#3 – BYD Qin PHEV
: The most common plug-in in China had another good performance in February, with 3,009 units, being BYD's "Model 3" sixth consecutive "3 to 4 thousand units/month" result (Talk about consistency!). This is another of BYD's hard-working Oompa-Loompa, sure, they do not wow the world with 15,000 units/month peak performances, like the EC-Series does, but on the other hand, they get s*** things done. In a way, it's a bit like Ronaldo, while Messi amazes the world with his magic and wins the popular vote, at the end of the day, the Real Madrid striker takes home the awards, just like BYD did in the last 3 years.
#4 – JAC iEV7S/E
: JAC is one of the EV pioneers in China, selling plug-ins since 2010, and now with its iEV7S/E Crossover, it's back at the game, registering 2,831 units last month. With a competitive price of USD 26,000 before incentives, this is a vehicle targeted at trendy urbanites that for some reason can't reach a BYD Song or Roewe's eRX5, getting in return a good-looking compact vehicle (Kia Soul-sized), with just enough zoom (114 hp) to avoid making it feel underpowered.
#5 – Chery eQ
: Chery was one of the Chinese brands to bet early in plug-ins, having won the models title three times in a row (2011, '12, '13), with its tiny QQ3 EV, now the automaker is trying to regain relevance with the eQ, the spiritual (and material) successor to the QQ3, having registered 2,753 units in February, allowing it to collect a Top 5 position last month. A vehicle marketed to city dwellers, for USD 24,000 before incentives, you get a funky city EV, with the 22kWh battery providing just enough range (200 kms / 125 miles NEDC), to cover the needs of the urban jungle.
Outside the Top 5, and even in a slow selling month, there are a couple of models with positive performances, like the SAIC Wuling E100, that after a dismal January (only 80 deliveries), registered 601 units, allowing it to return to the Top 20. Better yet did its direct competitor Zhi Dou D2 EV, registering 893 units, a far cry from the meager 130 deliveries of January, pulling it to #12 in the yearly ranking.
On a not so positive tone, the BYD Tang only delivered 204 units, its worst performance in all three years in the market, the most likely reason for this sudden drop is the fact that a new one is announced for this year.
Looking at the manufacturers ranking, after losing in January by some 1600 units to BAIC, BYD had its revenge in February, beating the c*** out of Beijing Auto almost doubling sales of its direct competitor in that month (8,200 units vs 4,400), allowing it to recover the yearly leadership, with 24% share, 4 percent ahead of BAIC (20%).
But we are only on the second game of a 12-round final, so buckle up and bring the popcorn, because it will be an entertaining race until December between these two.
In Third Place we also have a close race, with the Shanghai-based Roewe (11%) being closely followed by JAC (10%), so there's more to look at, in the Chinese NEV (New Energy Vehicles, aka PEV) games than just BYD vs BAIC.
| | | | | |
| --- | --- | --- | --- | --- |
| | | | | |
| | | | | |
| | | | | |
| | | | | |
| | | | | |
| | | | | |
| | | | | |
| | | | | |
| | | | | |
| | | | | |
| | | | | |
| | | | | |
| | | | | |
| | | | | |
| | | | | |
| | | | | |
| | | | | |
| | | | | |
| | | | | |
| | | | | |
| | | | | |
| | | | | |
| | | | | |