Yuan EV reaches 10,000 units in BYD fest
Traditionally, January, along with February, are the two slowest months in the Chinese plugin market, but tradition is not what it used to be, and with disruption hitting the Chinese automotive market (the mainstream market was down 18% last month), PEV sales were up an amazing 175%(!) YoY, to some 96,000 units, pulling the PEV market share to 4.8%, already above the 2018 result (4.2%), and all of the sudden, my previous forecast for the final 2019 share (8%) seems conservative. Will we see it go North of 10% by the end of December?
With all this continued growth, we should see sales double this year, surpassing the 2 million mark, making some 60% of all global PEV sales in 2019.
This ranking still has some numbers missing, namely imports, but considering we have already over 90% of this month sales tracked, and the exciting results that have been made, we decided to publish right now what we have and update the final numbers later.
With symbolic export numbers, the domestic market is more than enough to absorb the current Chinese production, and most foreign OEMs only now are starting to tackle the current seismic changes, dragged into electrification by the new PEV quotas, resulting in the foreign brands total share still being stuck at 5% (imports are still missing, so this number should grow a little, to some 8%).
Of this (small) cake, 2% belong to Volkswagen, by far the Best-Selling foreign brand, with the remaining manufacturers sharing the remaining 3% (Tesla should have some 2%, once the final numbers are in).
In January
, the headlining news were the BYD Dynamic Duo (Yuan and Tang) continued Rise and Rise, with the first surpassing for the first time the 10,000 units in one month.
Here's January Top 5 Best Selling models individual performance:
#1 – BYD Yuan EV
: We all knew that BYD's new Baby Crossover was destined for success, and with yet another record of 10,093 deliveries in January, the first time a BYD hits five digits in one month, the brand Star Player is living up to expectations, eating everybody's lunch, on the way. With a 40,000-long waiting list, demand is no problem, depending more on BYD's ability/willingness to make them in large volumes (The Tang is more profitable…), than anything else. With unrivalled specs (42 kWh battery, 305 kms/190 mi NEDC range, 174 hp motor), and price (25,000 USD), success is guaranteed, but for some reason BYD still thinks it's not good enough, so they are going to upgrade the battery to some 58kWh this year…If they have a long waiting list now, imagine then!
#2 – SAIC Baojun E100
: Shanghai Auto and General Motors had high hopes for their tiny two-seater, and despite an irregular career, the tiny two-seater is finally making an impact on the Chinese plug-in market, having registered a record 8,312 units last month. With an updated range in 2018 (250 kms NEDC), thanks to a new 24 kWh battery, its price (CNY 93,900 / USD 14,700) before subsidies, is quite alluring, especially considering its modern design and features. Maybe GM should consider exporting it? I mean, it's not like they have a strong EV lineup…
#3 – BYD Tang PHEV
: After 9 months on the market, the second-generation Tang continues to expand sales, registering a record 6,908 registrations. Sales should continue strong for BYD's successful flagship, and new record sales could still be achieved in the future, although the upcoming (and much anticipated) Tang BEV could steal sales from it. As for the current Tang PHEV specs, BYD's Midsize SUV saw the battery grow to 24 kWh, originating an increased 100 kms range / 62 mi NEDC (around 70 kms / 44 mi real world), while on the power department, things have stayed the same, but with 500 hp and 0-100 kms/h in less than 5 secs, one can't really say it was underpowered.... All for CNY 279,800 / $40,816.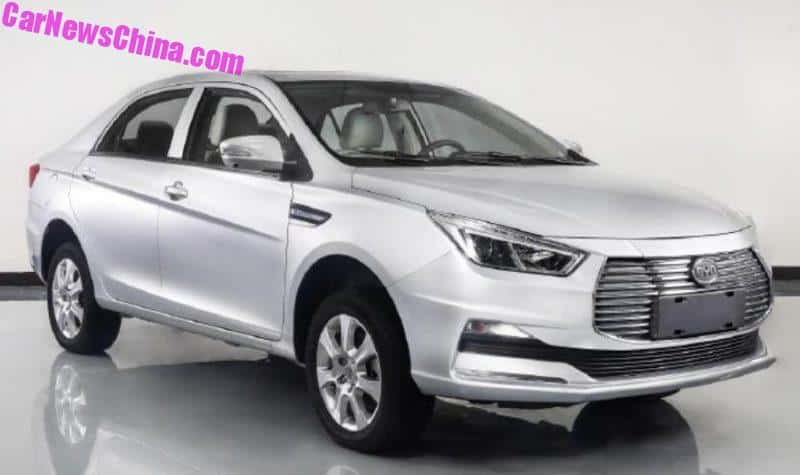 #4 – BYD e5
: BYD's bread and butter electric sedan, a favorite among taxi-drivers, registered 3,968 units in January, and yet, this performance was overshadowed by their team stars Tang and Yuan. This Andre Iguodala

(Who?)

of the BYD lineup, has great specs (61 kWh, 405 kms / 253 mi range NEDC, 218 hp), considering the price (CNY 220,650 / USD 34,600). With a new, attractive design (finally!), the nameplate is set to continue its brilliant work as the lesser known team member of an All-Stars-rich Shenzhen Warriors Team...
#5 – BAIC EU-Series:
After the record 12,561 units of December, allowing it to be that month Best Seller, BAIC's electric sedan returned to more normal performances, with 3,895 units being delivered last month, narrowly losing out to its BYD e5 nemesis. The revised design and improved specs (215 hp, 416 kms / 260 mi NEDC, $32,500) allows it to remain a popular choice and resist the BYD Blitzkrieg (the EC-Series can't say the same…), so it seems the sedan is going to be Beijing Auto's main bet for 2019.
NIO ES8
In such an amazing month, there were plenty of models shining, besides the aforementioned records mentioned in the Top 5 Sellers, there were fresh faces scoring record results, like the #9 Geely Emgrand GSE EV compact SUV registering a record 2,808 units, the singular #14 Great Wall Ora iQ5 EV crossover scoring 2,036 units, a new personal best for the Great Wall nameplate, and finally the #18 Lifan 820 EV midsize sedan delivering a record 1,682 units.
Another interesting feature in the big reshuffle of the January ranking, is that in the middle of the large number of new faces on the Top 20, we have a couple of export-minded models that are finally surfacing in the Top 20, like the full-size SUV Nio ES8, in #16, with 1,803 deliveries, being January's Best Selling Luxury model, while the #17 GAC Trumpchi GE3 compact crossover registered 1,683 units.
Looking at the manufacturers ranking, BYD (22%) is a comfortable leader, thanks to the success of the Yuan and Tang (and the #4 e5, and the #7 Qin, and the #15 Song…it's a true BYD fest), while below it, there are significant shifts, with SAIC (14%) in the 2nd Spot, ahead of Geely (7%), while BAIC (5%) had a terrible entry in 2019, dropping to 4th, tied with Chery.
A special word for BYD's never ending expansion plans, besides the current lineup, that can already be considered quite complete, with a subcompact crossover, compact sedans and SUVs, and a flagship midsize SUV, not forgetting the complete range of commercial vehicles, the brand will join new segments this year, with the e1 trying to get a piece of the large City EV market, while the Song MAX, both in PHEV and BEV formats, will join the 7-seater MPV/Minivan category, with even more models coming in 2020, including a mysterious Han sports car, said to have Tesla-like acceleration specs and over 700 kms range…
One wonders where they will get enough batteries for all that, but then again, they are their own supplier, so just like Tesla, BYD is not dependent from third party supply issues and contracts, which really separates both EV makers from the rest of the competition into a league of their own, allowing them also to upgrade their batteries more frequently, thus winning a critical advantage over their competitors.