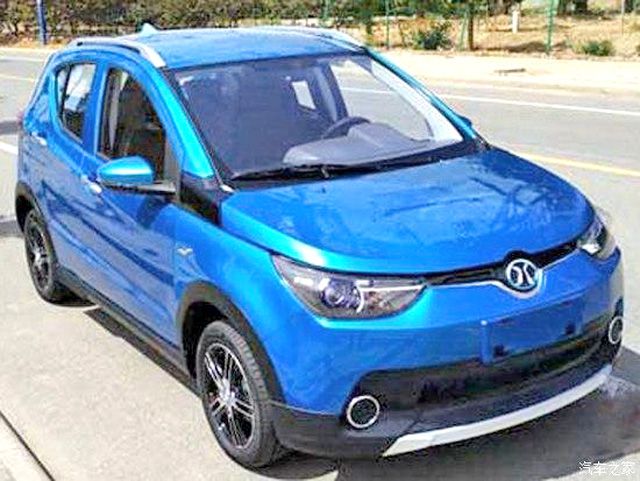 2017 Best Selling PEV, hands down
Models: BAIC EC-Series hits 16.000 units in Record Month
The September record lasted only two months, as in November registrations grew 72% YoY to over 141.000 units, pulling the 2017 count to over one million (1.039.114 units, to be more precise), up 55% regarding the same period in 2016, and pushing the total stock of Plug-in passenger cars in the World to almost 3.3 millions.
Considering this brilliant performance, i think it is safe to say that December will be the Mother of all records,
with numbers possibly hitting 180k. Ambitious? Maybe, but i think the stars are aligned for it.
In November it was all about the BAIC EC-Series reaching once again historic levels (15.719 units, new all-time record for a single model for the second third time in a row), allowing the Chinese model to order the 2017 Best Seller title with one month in advance
.
This is the first time a Chinese model wins such title, and most interestingly, the winner didn't came from the BYD stable, something few could imagine some 18 months ago...
The EC-Series wasn't the only Chinese model to shine in November, as six of the Top 10 Best Selling models in November came from that same country, besides the aforementioned BAIC EC-Series (#1), the others were: JAC iEV6S/E (#2 - 4.965 units), BYD Qin PHEV (#3 - 4.262), Zhidou D2 EV (#5 - 4.062), JMC E200 (#9 - 3.442), and Chery eQ (#10 - 3.372)
As for the remaining YTD Top 10, there were two significant changes, with the Tesla Model X (4.185 units, best off-peak performance ever) recovering the Fifth Spot, while in Tenth, we have a surprise, with the Chevrolet Bolt, that's the one with a "B", finally reaching the Top 10, thanks to a record 3.747 deliveries.
Will it remain in #10 by the end of December? There are a lot of candidates, with four models less than 2.000 units behind (BYD e5, JAC iEV6S/E, Mitsubishi Outlander PHEV...), but i believe the most difficult of them to beat will be the Chevy Volt (With a "V"), less than 200 units behind and with the potential to outsell its all-electric sibling in December

.
Looking at the BEV / PHEV breakdown, pure electrics are steady at 65%, thanks to the Chinese rise, this being the highest BEV share since 2011(!).

Pl
WORLD
Nov.
YTD
%
'16Pl
1
BAIC EC-Series
15.719
64.910
6
42
2

Tesla Model S

3.889
46.951
5
2
3

Toyota Prius Prime / PHV

3.831
46.423
4
64

4

5
6

Tesla Model X

Zhidou D2 EV

2.817
4.185
4.062
43.917
41.348
41.155
4
4
4

1
7

32

7

Renault Zoe

2.015
28.544
3
8
8
BMW

i3

2.839
28.040
3
6
9
BYD Song PHEV
3.367
26.277
3
N/A
10

Chevrolet Bolt **

3.747
24.313
2
93


TOTAL
141.032
1.039.114


* - Leaf I & II combined
** - Includes Opel Ampera-e
Zhidou D2 EV
Manufacturers: BAIC is rising, Chevrolet jumps to #5
BAIC has beaten the all-time record, by registering 17.812 units, and despite maintaining its Fourth Position on the YTD ranking, it has presented its credits to win the Manufacturers Trophy, adding yet another automaker to the thrilling race we are witnessing.
Considering that BYD should make a 13.000-something performance in December, the Chinese OEM should end the year at around 107k, while Tesla should make some 18k in the last month of the year, so it could end at around 107k deliveries, same as BYD.
As for BAIC, expect another record-breaking performance, maybe reaching some 21k units, thus doing 106k units in 2017. The diferences between the three look so small that anything can happen in the manufacturers race.
Chevrolet took advantage of the slow sales of the Japanese Nissan and Toyota, to overcome them, thanks to 6.212 units, a new personal best.
Another interesting story is developing at the bottom end, with the Chinese Roewe gaining a precious lead to secure its Ninth Position, while Volkswagen returned to the Top 10, dumping the slow selling Renault out of the table.
Still, with Renault less than 2.000 units behind, theoretically, the French carmaker can still dream of coming back to the Tenth Spot, but...I just don't see the potential to do it

.
Pl
WORLD
Nov.
YTD
%
'16Pl
1

BYD

12.869
93.792
9
1
2

Tesla

8.420
89.013
9
2
3
BMW
10.873
85.612
9
3
4

BAIC

17.812
84.556
8
5
5
6
7

Chevrolet




Nissan


Toyota
6.212


3.097

3.831

48.481

48.148
46.476
5
5
4
8
4
30
8

Zhidou

4.095
41.213
4
14
9
Roewe

5.101

38.387
4
15
10
Volkswagen

4.559

37.797
4
6