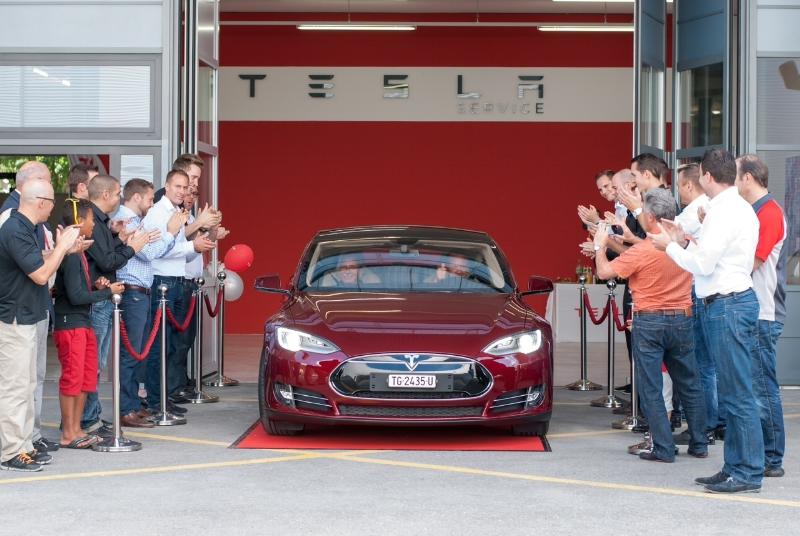 105 shots like this one were registered this March
Tesla Hits the Accelerator Edition
A great month for the Swiss EV market, 203 units represents the second best-selling month ever (Last December saw 247 registrations), pulling the EV share to 0,54%, 0,10% above last year.
This month Tesla sold a record 105 units of its Model S, earning the third monthly #1 title (The previous were August and September '13), and the YTD title, with 133 units, now the question is: Can Tesla continue to grow and reach the E-Class best-selling models? That means some 200 units/month, ladies and gentleman, please take your bets...
Looking at the rest of the pack, in #2 we are starting to witness a fight between the Renault Zoe and the BMW i3, with two wins for Renault (January and March) and a tie (February), with just 21 units separating them in the YTD chart, this will be an interesting race to look at.
Looking at the manufacturers ranking, Tesla is also ahead, with 36% share, followed by Renault (25%) and BMW (15%).
| | | | | | |
| --- | --- | --- | --- | --- | --- |
| Pl | Switzerland | March | 2014 | % | '13Pl |
| 1 | Tesla Model S | 105 | 133 | 36 | 2 |
| 2 | Renault Zoe | 34 | 77 | 21 | 1 |
| 3 | BMW i3 | 29 | 56 | 15 | 6 |
| 4 | Nissan Leaf | 13 | 23 | 6 | 4 |
| 5 | Opel Ampera | 5 | 21 | 6 | 7 |
| 6 | Mitsubishi I-Miev | 4 | 17 | 5 | 5 |
| 7 | Chevrolet Volt | 4 | 15 | 4 | 7 |
| 8 | Renault Twizy e) | 5 | 14 | 4 | 3 |
| 9 | Fisker Karma | | 6 | 2 | 9 |
| 10 | Peugeot iOn | 3 | 4 | 1 | 11 |
| 11 | Citröen C-Zero | 1 | 3 | 1 | 10 |
| 12 | McLaren P1 | | 2 | 1 | N/A |
| | TOTAL | 203 | 371 | 100 | |
Source: auto-suisse.ch; Manufacturers